Custom Internet Solutions for Television Stations
Drive traffic to your site for High School Football Scores!
Using a web-based application, stations for over 13 years have easily managed schedules and scores for High School Football teams in their area.
Dynamically creates team pages for every team entered into in the system.
Allows users to remain on your site longer with more page views.
View games by selecting date.
View team schedules with Win/Loss results.
Also viewable with a mobile device. No app necessary to download and install.
Export scores to be used in other systems
This application is provided as a service (SaaS - Software as a Service). Hosting is handled through the tvstats.com site, so your IT department can be free to focus on other things.
Email for more information to get started.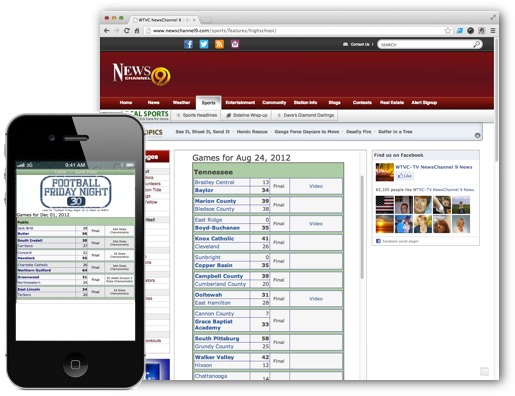 Services Available
High School Football Scores
The High School Football Application is now running on Google's servers with mobile version available. Easily display team schedules and scores on your site!
Content Management
Remove the bottlenecks for entering content on your site!
Custom Hosting Solutions
Host your entire site or take advantage of the computing cloud and host the applications that you need through TVstats.com!
Weather Closings
What to do with all those businesses and other organizations that close during bad weather? Display them on your site the same as you do for school closings!
The TVstats.com applications use Google's scalable network for best performance. This allows for increased reliability during breaking news and high traffic events - the times you need it most!